INNOVATIVE MATERIALS FOR CONSTRUCTIONS
The Bausal GmbH company provides, alongside the distribution of cement-bonded particle boards and special materials for construction, complete systems for ventilated façades, systems for the dry construction of floors, and, high-performance infrared surface heating.
Our construction materials are: NON-COMBUSTIBLE
Fire resistance category A2-s1, d0 acc. to European std. EN 13 501-1 WEATHER-PROOF
Ideal for applications in wet rooms and outside

ECOLOGICAL & SUSTAINABLE
63% wood, without the addition of any hazardous substances
ENVIRONMENTALLY COMPATIBLE & HYGIENIC
Free of noxious emissions, diffusion-open, mould-resistant SOUND-ABSORBING
Very good improvement of airborne sound reduction and impact sound insulation in buildings EASY TO PROCESS
Despite their high rigidity, the boards can easily be processed on the construction site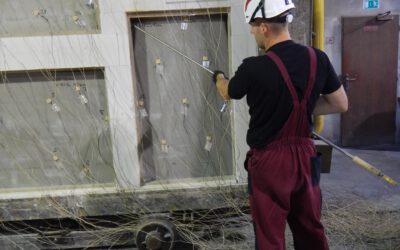 Wir haben verschiedene Wand (-Schacht) Konstruktionen auf Feuerfestigkeit getestet. Dabei wurden die "starken" CETRIS-Platten (32mm und 40mm Dicke) in Verbindung mit Mineralwolle im Versuchsaufbau verwendet. Es handelt sich dabei um "offene" Feuerschutzkonstruktionen...
read more